Our profiles offer much greater depth & breadth than any of the competition.

Our unique compatibility questionnaire has over 100 provoking & revealing questions which give fascinating insights into attitudes & lifestyle. We can even rate which type of humour appeals to you!

Our biggest source of referral is from our own members - which speaks for itself.

We have a genuinely FREE membership option.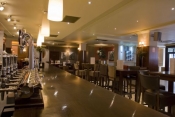 Saturday, 18 April 2015 7:30 PM  BOOK NOW

Age: 30 to 65 (men)
30 to 63 (women)

The Union Bar,
88-90 George St,
W1U 8PA

Come along and meet many like minded and single professionals at our Spring Singles Part...
"Through L & F I"ve met [honestly - I"m notorious for being dead critical, so it must be true] and so I"m delighted to terminate my membership.

I wish luck to all my Internet men, and I recommend the site to all my single friends who are seeking a partner. Many, Many thanks!!!"